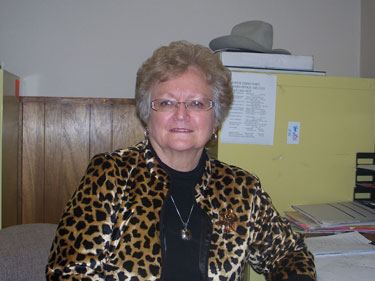 Hi from Marsha Raye, host of the Focus 1260 show here on KWYR. This special feature show is committed to bringing interesting people, events, and ideas to the listeners. The show airs on Monday, Wednesday and Friday at 12:20. You'll find us at 1260 on your AM dial.
On a personal note, I could use the old familiar saying: What shall I do when I grow up? I'm fortunate to live a most active and varied life that includes being a retired veteran teacher, a 10 year stretch as an insurance agent and financial advisor, a term or two on the church board, the City Council and the local school board. Each of these experiences has been a wonderful time of growing and learning. But, a more important role would be that of wife, mother and grandmother; I've always had a great deal of support and encouragement from those closest to me.
Currently I'm invloved with the Tripp County Centennial, volunteer a shift at the local Thrift Store and Pantry and volunteer as a driver of the Vet's Van. If I'm lucky, I find time for a round of golf, a good bit of reading, other special interests and plenty of time with famliy and good friends.
It was Emily Dickinson who said: "Life has a loveliness to sell"–so, I say, "Why not make the investment."
As the host of the Focus show, I have the opportunity to visit with guests from all walks of life and to learn more about a wide range of topics. So, I invite you to join us here at KWYR as we find out what's new and what's happening here in the KWYR listening area.