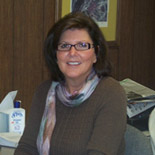 Hello, Bobbie Voegeli here and I'd like to start out by telling you when I started working at Magic 93 but it's been so long, I can't actually remember! I do recall it was sometime in the '80's. Now I'm dating myself – oh well, at least they've kept me around!
I was born and raised in Winner, left for college, got my degree, came back to lifeguard one summer, met my future husband, Dr. John, and the rest, as they say, is history. We have two sons that have kept me hopping over the years which is why I'm considered a "part-timer" at the station.
I've worn several different hats while I've been employed here – guess you could say I'm a "Jack of all trades but master of none of them"!!! But I do list my position as "Production Assistant" which basically means I cut the ads that the sales staff gives me! And I even tried something this year that I vowed never to do – GO LIVE ON AIR! I have filled in on our Country 1260 station in the morning during the 10:00 – 1:00 shift – yes, I am the Bobbie V you may have heard a couple of times. Pretty nerve racking but challenging at the same time. Hope you enjoy listening to our stations as much as I have enjoyed working here over the years!