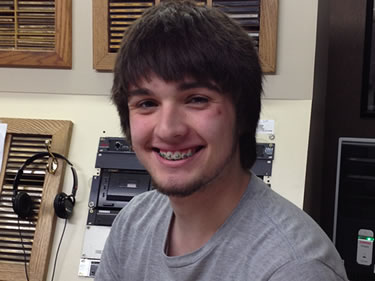 Hey, how ya doin'? I'm Brandon, I was born right here in Winner, SD in '95 and I've lived here my whole life. I'm the new on-air weekend afternoon host/DJ and Football game board operator. My hobbies usually consist of video games (mostly) writing songs, playing drums, drawing/sketching and graphic art works. My art related hobbies are very important to me.
I really like working here at KWYR. Everyone is really friendly and always willing to help when I've managed to mess something up. Working on air is an awesome way to find out new things that are happening in the area before most people and it's a great way to hear new music (well new to me anyway).
I'm set to graduate from Colome High School in the year 2014. I hope to take my arts to college and get some sort of art or music degree.
So be sure to tune in on the weekends to hear some great music and news.