Weekend Forecast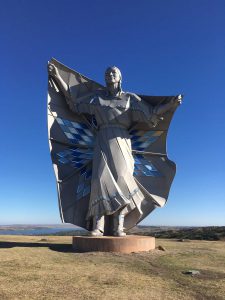 Today Mostly sunny, with a high near 78. South wind 10 to 16 mph, with gusts as high as 23 mph.
Tonight Partly cloudy, with a low around 55. Southeast wind 11 to 14 mph, with gusts as high as 20 mph.
Sunday Sunny, with a high near 82. South wind 13 to 17 mph, with gusts as high as 25 mph.
Sunday night Partly cloudy, with a low around 58. South wind 13 to 16 mph, with gusts as high as 23 mph.
Click Here For Any Cancellations & Postponements!
RECENT NEWS

Weekend reminders September 30, 2016 We wanted to send a few reminders your way as you get set to plan your weekend in the area. This weekend is the last of the season for the Chamberlain Farmers Market. Stop by on Saturday between 8am and Noon at the parking lot of the Trinity Lutheran Church. Also on Saturday, the Flying ...
Annual meeting coming up in Presho next week September 30, 2016 Mark your calendars! The annual meeting of West Central Electric will be held next week. The meeting is scheduled for next  Wednesday, October 5th at the Presho Auditorium. Registration will begin at 4pm and the meeting starts at 5pm. Be sure you bring an appetite as a free roast beef dinner will be served starting ...
Open House coming up in Burke on October 9th September 29, 2016 We want to let you know that the Burke Volunteer Fire and Rescue Department will be holding an open house on Sunday, October 9th from 10am-4pm in Burke! You can come checkout the demonstrations and various skills of the firefighters! Stop by and enjoy lunch on them as hot dogs, beans, and chips will be ...
RECENT SPORTS

Schedule for Saturday October 1, 2016 Volleyball Bennett County at Jones County Kimball/White Lake at Mitchell Christian White River and Todd County at LNI in Rapid City Cody-Kilgore at Ainsworth Cheer and Dance Winner and Gregory  at Dakota Valley Invite Platte-Geddes at Roosevelt Invite ...
Football from Friday October 1, 2016 Aberdeen Roncalli 46, Wagner 0 Arlington/Lake Preston 58, Deubrook 30 Baltic 48, Alcester-Hudson 0 Belle Fourche 35, St. Francis Indian 8 Bennett County 12, Custer 8 Bon Homme 41, Colman-Egan 40 Brandon Valley 41, Rapid City ...
Schedule for Friday September 30, 2016 Football Bloomfield at North Central Hershey at Valentine Ainsworth at Chambers/Wheeler Central/Ewing Osmond at Stuart Colome at Andes Central/Dakota Christian Avon at Burke/South Central Philip at Lyman Miller at Kimball/White Lake in Kimball Woonsocket/Wessington Springs/Sanborn Central at Gregory Parkston at ...