Weekend forecast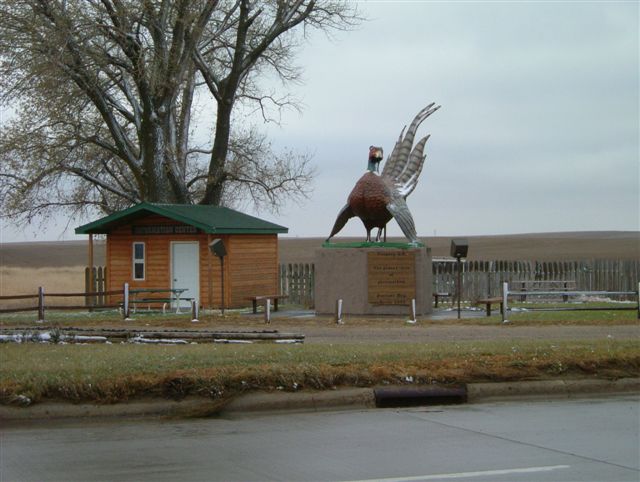 Today Scattered showers and thunderstorms, then occasional showers and possibly a thunderstorm after 11am. High near 59. North wind around 9 mph. Chance of precipitation is 80%.
Tonight Showers and possibly a thunderstorm. Low around 52. North wind 6 to 11 mph, with gusts as high as 16 mph. Chance of precipitation is 90%.
Sunday Showers. High near 58. Northwest wind 7 to 10 mph. Chance of precipitation is 80%.
Sunday night A 50 percent chance of showers. Cloudy, with a low around 46. North wind 9 to 11 mph, with gusts as high as 16 mph.
Click Here For Any Cancellations & Postponements!
RECENT NEWS

Fireball Run coming to Gregory on the 29th! September 22, 2017 The city of Gregory welcomes "The Fireball Run" to town! Everyone is invited to check it out on Friday, September 29th. 10am, a pancake feed will be held at the Gregory Fire Station. At 11:45, a pep rally will be held for the football game with Platte/Geddes. At 12:30, Gregory Mayor Scott Anshutz will present ...
Colome carnival to happen on the 30th September 22, 2017 Something to keep in mind for next weekend, the Colome Athletic Department will be putting on a carnival on Saturday, September 30th from 5:30-9pm at the Vet's Hall. They will have carnival games, bingo, a cake walk and food provided by the South Dakota National Guard. Proceeds will go towards painting and refurbishing the Vet's ...
Tailgate cookout to happen Friday September 21, 2017 The 23rd annual tailgate cookout will be held on Friday, September 22nd from 6-7pm before the Chamberlain vs Woonsocket/Wessington Springs/Sanborn Central football game at Don Giese Field. Come out and help First Dakota National Bank show support to the High School and appreciation to the community! Go Cubs!
RECENT SPORTS

Schedule for Saturday September 23, 2017 College Football Rutgers at Nebraska at 2:30 on Country 1260 Golf The Creek Olympics at the Medicine Creek Golf Course Cross Country Chamberlain, Gregory, Lyman, Winner and Burke/South Central at Platte-Geddes Invite Volleyball Colome and Jones County at Kimball ...
Football from Friday September 23, 2017 Aberdeen Central 10, Harrisburg 7 Baltic 9, Garretson 7 Belle Fourche 30, Hot Springs 27 Bison 28, Edgemont 16 Bridgewater-Emery/Ethan 56, Flandreau 6 Britton-Hecla 41, Clark/Willow Lake 18 Burke/South Central 58, Centerville 0 Canistota 34, Irene-Wakonda 28 Castlewood ...
Friday's Schedule September 22, 2017 Football Winner at Mt. Vernon/Plankinton at 4 on Country 1260 Bon Home at Gregory at 5:30 Colome at Alcester Hudson Burke/South Central at Centerville on Magic 93 Philip at Lyman New Underwood at Jones County/White River in ...