Monday, August 29th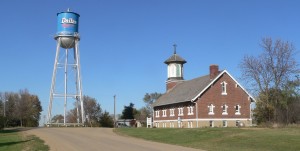 Today Isolated showers and thunderstorms after 4pm. Mostly sunny, with a high near 91. South wind 7 to 13 mph, with gusts as high as 18 mph. Chance of precipitation is 20%.
Tonight Isolated showers and thunderstorms before 7pm. Mostly cloudy, with a low around 64. Southeast wind 6 to 8 mph becoming south after midnight. Chance of precipitation is 10%.
Tuesday Mostly sunny, with a high near 86. South wind 5 to 10 mph becoming east in the afternoon. 
Tuesday night Partly cloudy, with a low around 61. East wind 6 to 10 mph becoming south after midnight.
Click Here For Any Cancellations & Postponements!
RECENT NEWS

Veterans Day coming up in Huron August 29, 2016 The South Dakota Department of Veterans Affairs along with Governor Dennis Daugaard have proclaimed this Thursday, September 1st as Veterans Day at the South Dakota State Fair in Huron! There will be a program at 10:30am at the Northwest Energy Freedom stage, "Salute to Veterans". To show appreciation for their service, veterans and active military ...
Benefit event at the Winner Legion tonight August 29, 2016 There will be a benefit spaghetti feed and auction for Kevin Kidwiler tonight from 5pm-8pm at the Winner American Legion. Proceeds will help defray medical expenses. If you would still like to donate items for the auction you can contact Colleen Farley at 842-5471, Tanya Harter at 840-0559 or Tracie Haley at 840-0072. An account has ...
Weekend reminders August 26, 2016 Don't forget that a free tailgate cookout will take place tonight at Don Giese Field prior to the Crow Creek vs Chamberlain football game! There will be hamburgers and hot dogs for the public to enjoy starting at 5:30. Saturday, the Rosebud Arrow, Rod and Gun Club in Winner will be hosting a bow hunter safety ...
RECENT SPORTS

Dodgeball fundraiser coming up this weekend in Winner! August 29, 2016 There will be a dodgeball fundraising tournament that will take place this Saturday, September 3rd starting at 5:30pm at the Winner Middle School! Up to six people are allowed on ...
Coverage from Eagle Butte and Gayville this Friday! August 29, 2016 We will provide you wtih coverage of two more football games this Friday night as Brett, Scott and Chris will be back on the road. On Country 1260AM, Scott and ...
Saturday's Schedule August 27, 2016 Cross Country Chamberlain and Platte-Geddes at Mitchell Invite Cheer and Dance Winner and Platte/Geddes at Gregory Invite Volleyball Chamberlain at Mobridge-Pollock Colome at Burke/South Central