Winner Area is Region 3B Champs!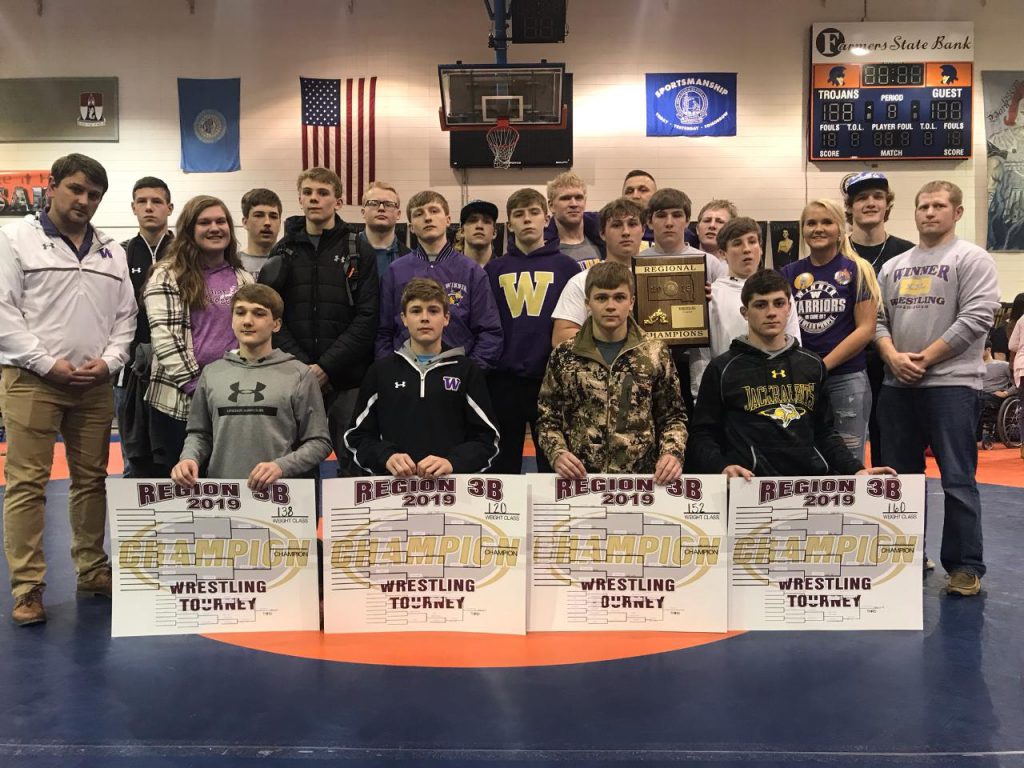 ---
Weekend Forecast
Today Snow. High near 15. Wind chill values between -2 and 3. Northwest wind 8 to 15 mph, with gusts as high as 21 mph. Chance of precipitation is 90%. Total daytime snow accumulation of 1 to 3 inches possible.
Tonight Snow likely, mainly before 10pm. Cloudy, with a low around 3. Wind chill values between -2 and -7. Northwest wind 8 to 15 mph, with gusts as high as 21 mph. Chance of precipitation is 60%. New snow accumulation of less than one inch possible.
Monday A 30 percent chance of snow before 7am. Mostly cloudy, with a high near 12. Wind chill values between -2 and -12. Northwest wind 6 to 9 mph.
Monday Night Mostly cloudy, with a low around -3. Wind chill values between -5 and -10. North wind around 6 mph becoming calm in the evening.
Click Here For Any Cancellations & Postponements!
RECENT NEWS

President's Day Lasagna Dinner coming up in Chamberlain February 15, 2019 There will be a President's Day Lasagna Dinner that will be served on Monday, February 18th at the Chamberlain High School Multi-Purpose Room. There will be two performances on Monday night at 5pm and 7pm. There will be performances by: River City Groove, CHS Jazz Band, River City Beat and there will be solo and ...
Blood drives to be held in Burke and Kimball this month February 15, 2019 We have a couple of blood drives that will take place in two of our area towns on Monday, February 25th. The Burke Methodist Women will hold a community blood drive from 11am to 5:30pm at the Burke Civic Center. To make an appointment, call Vicki at 775-2374. A blood drive will take place that ...
Movies to be shown at the Pix this weekend! February 14, 2019 Four different movies will be shown this weekend at the Pix Theatre in Winner! On Friday, February 16th, 'Venom' will be shown at 7:30pm. On Saturday, 'Incredibles 2' will be showing at 2pm. 'Ready Player One' will play at 7:30pm while 'Bohemian Rhapsody' will play at 9:30pm. Stop by and enjoy the movies for a ...
RECENT SPORTS

Basketball from Saturday February 17, 2019 BOYS PREP BASKETBALL Bridgewater-Emery 62, Viborg-Hurley 45 Chamberlain 57, Platte-Geddes 56 Clark/Willow Lake 64, Tiospa Zina Tribal 43 Dell Rapids St. Mary 68, Elkton-Lake Benton 59 Flandreau 56, McCook Central/Montrose 55 Harrisburg 70, Aberdeen Central 48 Hot ...
Winner Area wins Region 3B Wrestling Tournament February 16, 2019 The Winner Area Wrestling team won the Region 3B Tournament in Parkston on Saturday! Kaden Keiser, Wyatt Turnquist, Trevor Peters and Sam Kruger all had first place finishes for Winner ...
Schedule for Saturday February 16, 2019 Boys Basketball Great Plains Conference Classic in Mt Marty 10am- Burke vs Centerville 8:30pm- Colome vs Gayville-Volin Todd Country at White River Lyman vs Langford Area at 3pm at Warner Classic Boys and Girls Basketball Platte/Geddes at ...
https://publicfiles.fcc.gov/am-profile/kwyr
Persons with disabilities needing assistance with public inspection file content should contact Scott Schramm, 605-842-3333, 1-800-388-5997 or email sschramm@gwtc.net.