Monday
Marty Jackley stopped in to KWYR for a quick interview with Chris.  Thanks Marty!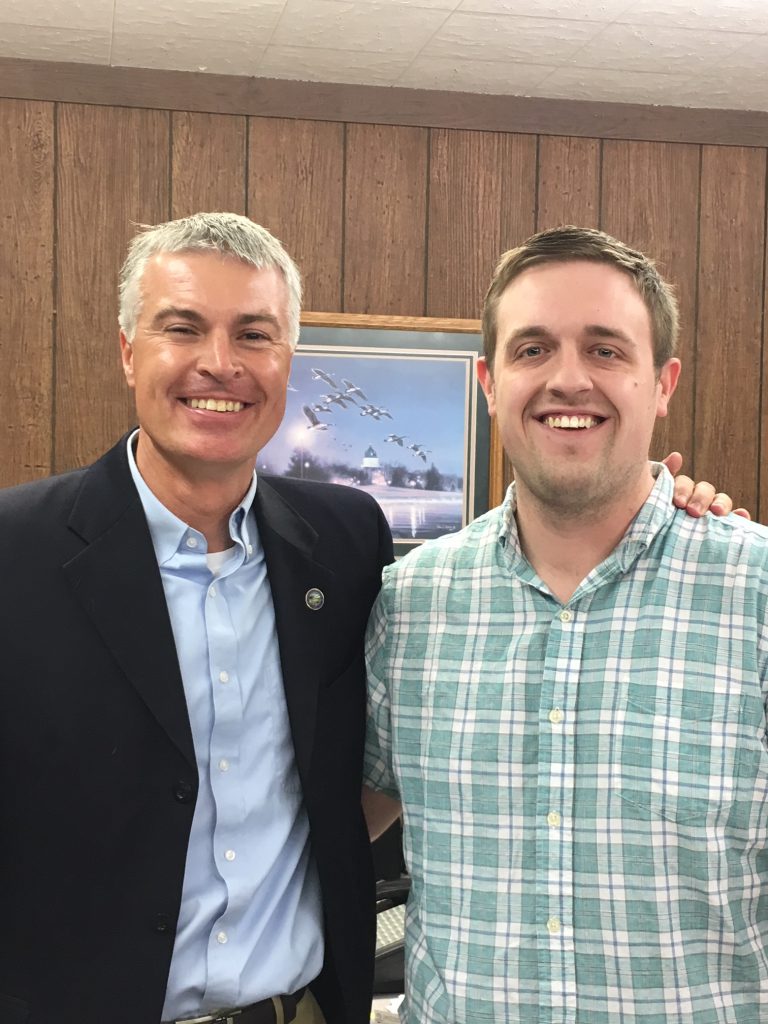 Today A slight chance of rain and snow between noon and 4pm. Increasing clouds, with a temperature rising to near 42 by noon, then falling to around 38 during the remainder of the day. Windy, with a northwest wind 23 to 28 mph increasing to 34 to 39 mph in the afternoon. Winds could gust as high as 55 mph. Chance of precipitation is 20%.
Tonight  Mostly cloudy, with a low around 26. Blustery, with a northwest wind 19 to 29 mph decreasing to 9 to 19 mph after midnight. Winds could gust as high as 40 mph.
Tuesday Mostly sunny, with a high near 52. West wind 8 to 11 mph, with gusts as high as 16 mph.
Tuesday night Partly cloudy, with a low around 34. West wind 8 to 18 mph, with gusts as high as 25 mph.
Click Here For Any Cancellations & Postponements!
RECENT NEWS

Platte-Winner Bridge meeting to happen this week December 11, 2017 A second public meeting/open house will be put on by the South Dakota Department of Transportation and the South Dakota Game Fish and Parks in regard to the South Dakota Highway 44/Platte-Winner Bridge Corridor study and environmental assessment on Wednesday, December 13th from 5:30-7pm at the Platte Community Center. There will be a short presentation ...
Blood drives going on this week December 11, 2017 There will be a blood drive happening in Platte this afternoon from 12:30-6pm at the Platte Community Center. Butte, Nebraska will host a blood drive on Tuesday, December 12th from 2:45-5:15 tomorrow at the Butte Community Center. To make an appointment call 402-832-5777. A blood drive is coming up at the Burke Civic Center Gym on ...
Colome fundraiser to happen on the 15th December 8, 2017 A Colome Music Booster fundraiser will be held on Friday, December 15th from 5:30-8pm at the Legion Hall. They will be serving spaghetti, salad, garlic bread and desserts. The Colome High School choir and band students will be performing throughout the evening. Free will donations will be accepted.
RECENT SPORTS

Monday's Schedule December 11, 2017 Boys Basketball Kimball/White Lake at MVP in Plankinton Girls Basketball Colome at Corsica/Stickney in Corsica
Vikings Visit to return tomorrow! December 11, 2017 Chris Doski will be back with another edition of his 'Vikings Visit' program tomorrow afternoon on Magic 93, and Tuesday night on Magic 93! Chris and a local guest will ...
Basketball scores from Saturday December 10, 2017 BOYS' BASKETBALL Aberdeen Christian 68, James Valley Christian 65 Baltic 66, Deubrook 41 Clark/Willow Lake 73, Sioux Valley 58 Crazy Horse 59, Wakpala 23 Crow Creek 76, Little Wound 47 Douglas 76, Alliance, Neb. 43 Dupree 42, ...