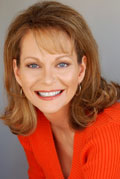 I love music…Rock, Pop, Country, Bluegrass, Broadway Show Tunes and Gospel…all of it! And even more, I love music on the radio and I always have. Even as a little girl, I'd sneak my radio (that I saved up for and bought with my very own money, thank you very much) into bed with me and listen to "that place," so far away. In reality, I loved the Radio. I still do. Growing up in a small East Tennessee town, the nearest "big" stations were in Knoxville, about 45 miles away…which made them akin to Carnegie Hall to me. And to think, those very important and highly influential disc jockeys standing there behind the board in those dimly lit hallowed halls were talking to ME, explaining why that was a great song, and why I needed to hear this band, or buy that product, and help out this great cause…offering me the chance to play fun contests and win tickets or a highly coveted T-shirt with the station's call letters on it. Wow! They were friends and I thought radio had to be the coolest job ever.
That, and I thought there'd be no math until the first time I had to read the meters on a transmitter and pass a test for the privilege of doing so.
So I got a job at the little radio station in town when I was in high school and it was…the coolest job ever. I went on to get a degree in Communications at the University of Tennessee and ended up working at some of those very stations I had listened to way into the night. Since then, I've had more great opportunities than I ever dreamed of, met more great people…some famous, others not, but still great…made wonderful friends who listen and mentored a few people along the way. I've had the chance to be in a Hallmark Hall of Fame Movie (as a 1950's mom), be on "America's Most Wanted" (a police officer), play in a band that opened for Travis Tritt-that was a one time thing. I sang backup and played the tambourine, but still! All because of radio. See, coolest job ever!
I still love music and I know these days, the I-Pod, the Internet and downloading tunes is the way a lot of people get music. But we've always had albums, tapes, CD's and what have you. I still say, music is shared best and sounds best on the Radio…So turn up Magic 93!