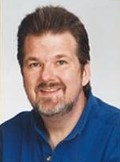 I was born in Muskogee, Oklahoma. That's what they tell me, I really don't remember. I grew up in a small town about 20 miles away from Muskogee, called Haskell small town-2,000 people on a good day. My life was changed forever on Christmas Day 1955, when I got a small trap drum set, and my first record player.
"Sixteen Tons" was the hit of the day, and I played that purple-labeled 45 until the grooves turned white. Went through three copies of "Rock Around The Clock" (still my favorite song-but I'm always looking for another!) and did I drive my parents crazy with Little Richard! Used to sit and watch the dot over the i on those Specialty records go 'round and 'round as I played them on my turntable-did that for hours-no wonder I'm just a little different.
I loved music from the get go-all kinds. Mom was a member of the Columbia Record Club, so she'd order Broadway show tunes albums, my sister Nancy likes easy listening stuff, and was I ever surprised when my Dad came home one day with a couple of 45's and a Bing Crosby 10″LP for me. And there was my cousin Billie Bess who had all the 45's of the day – Gene Vincent's "Race With The Devil" among them, and the Nessers who lived a block away filled in what my cousin didn't have. I hadn't even hit double digits, and I had more music than I could absorb. But I did. Every single note of it.
My first "collection" was a stack of 78's from Old Man Essex's trading post in town. I loaded up an old radio in my radio flyer, marched downtown, and swapped the radio for the stack of 78's he had. Tons of stuff – Ray Noble, Tommy Dorsey, Vaughn Monroe, Caruso, Harry Lauder, Gene Krupa – I was all over the road musically. And I wasn't even 10 yet!
I got a guitar when I was 12, which coincided with the folk craze, so it was Kingston Trio, Peter, Paul & Mary, and The New Christy Minstrels. Then the Beach Boys, Beatles, and everything that was played on Top 40 radio: KAKC from Tulsa during the day, and WLS/Chicago at night, with all the local Chicago hits. Sometimes I'd search out Wolfman Jack from XERB or Lou Kirby from WNOE in New Orleans, or some unknown DJ on WOKJ in Jackson, Mississippi. I loved it all! Even loved it when mom brought home Van Cliburn performing Tchaikovsky's First Piano Concerto. My grandmother Goddard had Tennessee Ernie Ford's "Spirituals" album, so that was a big influence too.
When I was 16 years old I got tired of sacking groceries, so I got a job at the radio station in Muskogee hey, you could do that in those days! And free records! Not the stuff you heard on the radio, but all the stuff you NEVER heard on the radio – stiffs that never got any airplay – except on my own turntable.
After graduating form high school, I attended Oklahoma State University where I worked on both campus stations, and at WKY in Oklahoma City – all three stations at the same time! Talk about having to keep your call letters straight. I worked at a record store (my only working experience at a record store) one year, and Chuck (don't remember his last name – but God bless him) turned me onto a lot of music, the best of which was Eric Anderson and his album "Blue River". Graduating from Oklahoma State University (10 years before Garth – though I'm sure I played in my college band at a lot of places HE would play in a decade later!)
I got a job in Dallas, where I met another huge influence – Bud Buschardt. I remember meeting him at WFAA and he asked me if I wanted to see what 5,000 records looked like – sure, I said. It was there I discovered a record collector. They were all in specially built shelves, in green sleeves – all arranged chronologically – and Bud had a $50 yellow paperback book by some guy named Joel Whitburn. I was hooked. No more hodge podge, I got my organized! And in 1976, I though it might be fun to collect every chart record for the bi-centennial. But did I stop there? Nope, I kept going, through the early 90's, and went back to pick up all the chart records that dated back to the first Hot 100 chart in 1955.
And during the course of my radio career, I've had the opportunity to collect a lot of memorabilia and interview a lot of people. Lots of rare tapes, too but what to do with all this stuff?! Over 90,000 records, not to mention CD's, and miles and miles and miles of taped interviews and studio outtakes. Seems a shame just to organize it, categorize it, put it on a shelf, and forget about it. Thanks to Goddard's Gold, I can share my lifetime of collecting with you. You don't need to search it out, clean it up, organize it, categorize it, and build shelves for it, you just need to listen. That's a pretty good deal!
(Editor's Note – Steve fails to mention that in addition to his enormous record collection and intense passion for music, what makes Goddard's Gold so special is that he is one of the BEST on-air personalities in the business!)